Breaking away from the usual lectures, the recently concluded Coach Developer Workshop in Singapore saw 21 local coaches and representatives from National Sports Associations (NSAs) actively engaged in presentations and discussions over a three-day session in March.
"We're used to classes where we have to sit down and try to download two to three hours' worth of [information], and then go home assuming we know everything," said Condrey Liu, who is a sport development manager at the Singapore Swimming Association, in charge of coach education.
He elaborated: "In this workshop, there are no activities or sessions that require us to be stationary, sitting down [for a long time]. We're constantly being challenged!"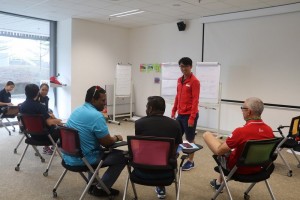 Troy Engle, director of CoachSG, acknowledged that the passive methods of coach education needed to be changed. He expressed: "[We recognise that] better coaches emerge through better development programmes and support for them in terms of their professional growth. That's why we've chosen to step back and take a very holistic approach."
The workshop was aimed at training participants as coach developers – in other words, coaches who help train and develop other coaches – to act as key multipliers of CoachSG's efforts to improve local coaching standards and, eventually, the sporting landscape in Singapore.
Engle expressed: "We're moving towards coach development, supporting them not just in terms of their technical knowledge, but also their interpersonal knowledge and reflective skills. We're constantly trying to challenge the coaches and support them in their quest to get better at what they do."
Over the course of the workshop, the participants were taught how to improve their facilitation and interaction skills, even conducting mock classes and peer reviews with their groupmates.
Liu reflected: "One of the things that's emphasised heavily is that there is no use focusing on what you didn't do so well. After getting all the feedback, we need to know how to plan for the [future]. It's about how we improve ourselves."
Sheik Alau'ddin, head coach of the Singapore Silat Federation, found the peer reviews very helpful to his learning. He said: "[At the Federation], I'm like the boss, always giving instructions. Here, I have to share with a lot of other NSAs. I have to think, plan, and evaluate myself – which I think is great!"
He also shared intentions to start a clinic with his coaches after the workshop, so that he could get them thinking about their coaching methods. "We have about 15 core coaches at our Federation. I need them to be like me too, and care for other coaches at the grassroots level," he said.
CoachSG had also invited ICCE trainers Penny Crisfield and Dr Masamitsu Ito to share their expertise at the workshop, supported by grants from the Employment and Employability Institute (e2i).
Crisfield, chair of the ICCE Coach Developer Workgroup, has been formalising a training protocol and framework for coaches internationally, while Ito has played a key role in helping CoachSG contextualise the global coach development framework for Asia through the Nippon Sport Science University Coach Developer Academy.
Having interacted with the participants, Crisfield expressed hopes that they would continue working towards better coaching standards, describing them as "highly motivated and understanding" individuals.
"Once you get people from different sports to talk to each other and start sharing experiences to learn, the movement gathers momentum. It won't just be these people in isolation, going back to their respective sports," she said.
Looking beyond this workshop, Engle revealed that preliminary discussions on future engagements were underway. This includes helping coaches assess each other, in order to grow coaching standards through constructive feedback and assessment.
He stated: "Our plan is to develop a programme that becomes embedded within our system. All of the NSAs, not just the 21 people here, will want to and should participate in this, along with their coach development leadership. CoachSG will be here as part of their professional support."
"Ultimately, if every coach gets better, then the whole profession improves."
Via: https://www.icce.ws/