8 Sports Charities Who Are Helping
To Make The World A Better Place
For some, a quick game of football after work or a run before dinner is simply a fun way to get exercise. But for some charities throughout the world, sports is changing lives and providing hope for those who face adversity and challenges in situations we may never experience.
Sports aren't just good for the body, they may also help communities, according to the United Nations' Sports for Development and Peace.
The initiative found research indicating that sports programs promote social inclusion, have a positive impact on crime prevention, install leadership skills, and promote awareness of disease prevention. 
Studies have also shown that exercise can improve the quality of life and promote rehabilitation and healing for individuals with intellectual and physical challenges.
Below we have a list of eight amazing organizations that bring physical activity to those who may not otherwise have the opportunity to play.
Who it helps: Underfunded youth sports leagues as well as families of those with cancer or ALS.
How it helps: This charity donates new and gently used sports equipment to organizations that have a tough time acquiring it. The Foundation also helps families who face financial stress due to illnesses such as ALS and cancer. These families receive funds to relieve the burden of medical bills and other expenses incurred during treatment.
What you can do: The Foundation accepts donated equipment, funds, corporate sponsorship, and volunteers.
Fun Fact: The organization hosts a Midnight Madness charity baseball game in Sugarland, Texas, that lasts from noon until midnight. The Sugarland Skeeters participate in this baseball marathon to raise donations for specific recipients who face financial stress due to an illness.
Who it helps: Athletes with physical challenges who do not have access to adaptive sports.
How it helps: This organization offers many different programs tailored to different communities supporting the cause. Access for Athletes provides sports equipment such as hand cycles and mono skis, ensuring physically challenged competitive and recreational athletes aren't forced to sit out from activity because they cannot afford special equipment. Operation Rebound offers athletic opportunities for wounded service men and women. Catch a Rising Star is a mentoring and post-rehab support program for those who have suffered traumatic injuries. Lastly (as if this organization couldn't be any more active), Reach High is an information and resource service that helps those who are physically challenged make informed medical and health decisions.
What you can do: Organize fundraisers or volunteer your time within the organization. It also accepts donations and corporate sponsorships.
Fun Fact: Nike teamed up with CAF athlete Sarah Reinertsen to develop a shoe for athletes with prosthetic limbs. Most amputee athletes need to create DIY soles for their prosthetic running blades. Sarah worked with Nike and prosthetics maker Ossur to create Nike Sole, a lightweight composite outsole that slides onto Nike's Flex-Run Foot.
"

Adaptive Sports Access for Wounded Warriors

"
Who it helps: Wounded service men and women who participate in adaptive sports, or sports played by individuals with physical or intellectual challenges.
How it helps: ACWW provides transportation to and from adaptive sporting events and practices.
What you can do: The organization accepts monetary or vehicle donations to support the transportation efforts. Although ACWW is philanthropic, Greatist couldn't verify that ACWW was a 501(c)3.
Fun Fact: The Warrior Games, an annual event in Colorado Springs, is a joint effort that introduces adaptive sports for treatment and recovery of wounded veterans — merging the healing with a little friendly competition.
Who it helps: Children in small African villages who don't have access to sports.
How it helps: Ball for All programs encourage Peace Corp volunteers living in African communities to start sports teams for children, especially for girls who might not have acess. Ball for All not only provides an opportunity for children to get active, but also encourages them to develop leadership skills.
What you can do: Ball for All let's users organize a fundraiser or equipment drive, donate through eBay, or sponsor a team.
Fun Fact: The idea for this organization began when Peace Corp volunteer Brad Kramer purchased a ball for a group of boys who tried to play soccer after their daily chores with a ball made of tattered plastic bags and grass. The boys used the substitute ball for two years until it finally fell to pieces.
Who it helps: At-risk children in South Africa, Northern Ireland, Cyprus, and Israel and the West Bank,
How it helps: PeacePlayers provides programs such classroom-based education that offer formal peace and leadership education taught through the game of basketball. The on-court curriculum teaches youth how to handle disputes by using sport as a proxy for conflict.
What you can do: PeacePlayers accepts donations, volunteers, sponsorships, and corporate partners.
Fun Fact: For two consecutive years, Alice Deal Middle School in Washington, D.C., has held a 10-team basketball tournament to support PeacePlayers. The tournament started when 6th grade students were shown a video about PeacePlayers and each pledged $25 to play. Hundreds of children packed the stands to cheer on their classmates during the event.
Who it helps: Underfunded K-12 schools thoroughly the US.
How it helps: This project works with schools to help kids become fit, athletic, and healthy. It provides playground equipment, sports equipment, teacher training, and program evaluations.
What you can do: Project Fit accepts donations, corporate sponsorships, and volunteers.
Fun Fact: Project Fit uses a "Charts and Challenges" program, encouraging children to earn new levels (Bronze, Silver, and Gold) by completing various exercise and sports challenges. Each child can earn ribbons and certificates, and even become a national record holder.
Who it helps: Children across the globe who face hardship and challenges.
How it helps: This is a global organization that uses play and exercise to educate and empower children who face adversity. It helps children build essential life skills and improve their chance for a better future all through sports.
What you can do: Donate money, volunteer, or launch your own official fundraiser to support Right to Play.
Fun Fact: Right to Play received recognition by the UN for its successful programs in Palestinian refugee camps along the West Bank and Gaza Strip. These programs were designed to build youth leadership and raise awareness of children's right to improve their health. Wilfried Lemke, a UN Special Advisor for Sports for Development and Peace, visited Palestine and thanked Right to Play for their work, extending his support throughout Palestinian territories. He saw how the children involved in Right to Play activities were building crucial life skills and would serve as catalysts for healthier, more peaceful communities in the future.
Who it helps: Show Racism The Red Card is an anti-racism educational charity set up to teach young and old alike that Racism in any form is not acceptable on or off the football pitch.
What you can do: Click this  link to find out how you can support the work of Show Racism the Red Card.  
Fun Fact:  "I was putting petrol in my car at the garage and these kids started shouting racist abuse. Then after a bit one of them realised who I was and told his friends. Then they came over looking for autographs. That really hurt."[2]
                    — Footballer Shaka Hislop on an experience where he was perceived as 'just another black person' that led to him being active in the Show Racism the Red Card campaign.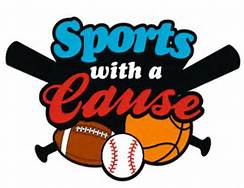 Do you have a favorite sports or exercise-related charity that you support? Share with us in our comments section below!