Soccer is an integral part of the global society and as the world's most popular sport, it has an invaluable role to play in driving social development and bringing its influence to bear the world over.

The UEFA approach to social responsibility is carefully structured and designed to both create and retain long-term benefits for society through soccer.
As such the UEFA social responsibility and sustainability projects aim to strengthen "the health and integrity of both football and society as a whole". The concept of respect is central to this and underpins all objectives.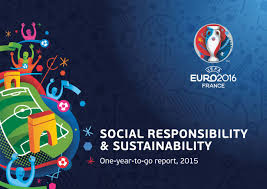 The core directives of the UEFA social responsibility projects are based will strive for antidiscrimination and diversity, social integration and reconciliation, active and healthy lifestyle, implementing soccer for everyone as well as funding an important series of soccer foundations and charity programmes.
EURO 2016 will build on initiatives implemented during the last two tournaments in 2008 and 2012. The programme has five key pillars.
1. Respect Access for All. UEFA works closely with the Centre for Access to Football in Europe (CAFE) to ensure everyone can access the host stadiums, including fans with disabilities. This includes ensuring enough places for wheelchair users and improving signage in stadiums.
2. Respect Your Health. EURO 2016 will be tobacco free. Smoking and the sale of tobacco related products is not permitted within stadiums and UEFA has trained stewards to implement and monitor the policy.
3. Respect Diversity. UEFA has a zero tolerance approach to racism. Discrimination at stadiums is reported and punished. Two Football Against Racism in Europe (FARE) Network monitors will be present at every match.
4. Respect Fan Culture. UEFA works with Fan Supporters Europe (FSE) to create a fan friendly, safe and secure environment in host cities. Fan Embassies will welcome supporters to host cities while providing reliable and up-to-date advice.
5. Respect Environment. UEFA's efforts to limit the environmental impact of the tournament are include four subcategories:
Public transport and mobility: Efforts are being made to reduce the environmental impact of transport, including encouraging public transport and walking, partnering with the French national railway company, SNCF, and making more trains available on matchdays.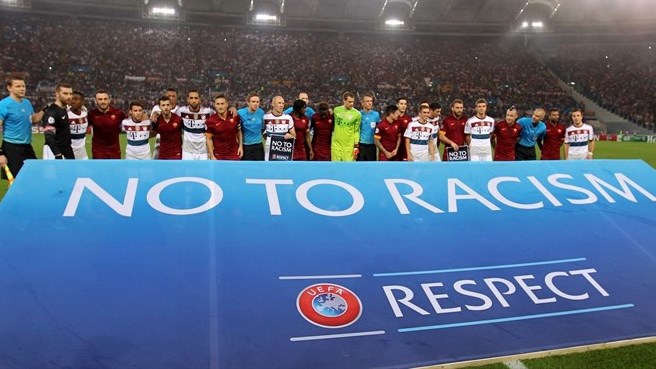 Waste management: This includes aiming to recycle 50% of tournament waste, donating surpluses and improving awareness among the general public.
Energy and water optimisation: Efforts have been made to limit the use of energy and water, including powering stadiums by the grid and defining a stadium water management policy.
Sourcing of products and services: Products and services will be responsibly sourced and contracts and licensee agreements will comply with United Nations Global Compact or International Labour Organization principles.
Published 17/06/16 by Mark McCluskey