Sport4Development Ireland & IDSDP
Primary School Poster Competition 2016
We would like to invite all primary schools in Ireland to participate in our 2nd annual Primary School Poster Competition which is being run in advance of and to help celebrate the 3rd International Day of Sport for Development and Peace (IDSDP) on the 6th of April, 2016. Our purpose is to help promote awareness and understanding of the positive impact sport can have of itself but also when used appropriately as a tool to achieve other goals and objectives.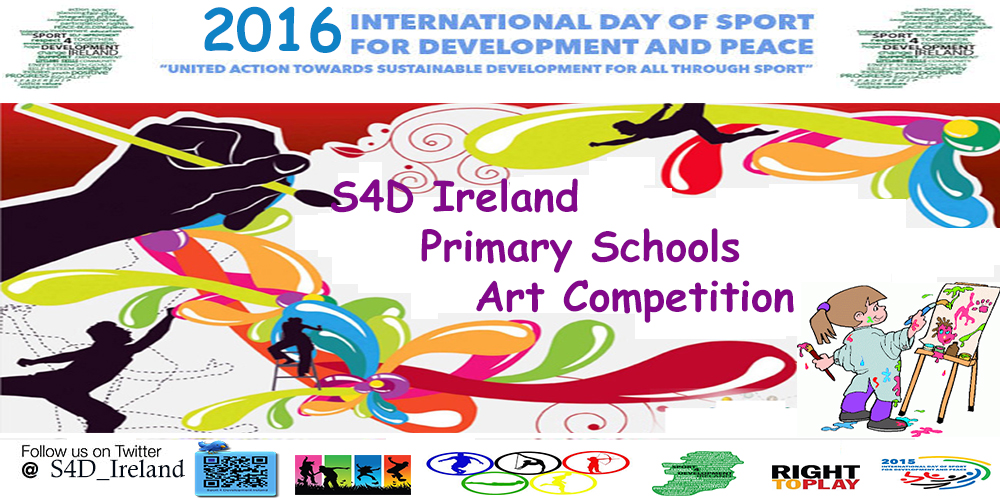 As 2016 is an Olympic year and the world's attention again focuses on Brazil following last year's World Cup our theme is – the Olympic spirit and sport.
The Olympic Spirit can mean different things to us all, images of athletes striving to achieve victory in different competitions loom before our minds' eyes. All these images also evoke strong feelings in us. We watch the carrying of the torch with awe. We watch the competition of our nation's athletes with excitement. And we fill with pride whenever one of our own athletes achieves a great victory.
Useful resources:
This year we would again invite schools to submit 3 entries per participating class (whether selected by competition or randomly, that is up to you!) and submitted for inclusion in an exhibition to mark the day and the opportunity to win a prize for themselves and their class. We will categorise the classes into 3 for judging:
Category 1 will be entries from 1st & 2nd Class,
Category 2 will be entries from 3rd & 4th Class,
Category 3 will be entries from 5th and 6th Class.
For the full details of the rules, terms and conditions see below. Please read these carefully and ensure they are followed for the purposes of the competition. If you have any further questions please don't hesitate to contact me at admin@sport4development.ie.
We look forward to receiving confirmation of your entry and the posters your school submits.
Engraved Irish Crystal Trophies to be Won
---
Primary School Poster Competition 2016
Terms & Conditions of entry
Entries: Must be original and the sole work of the entrant identified on said entry.
Poster Size: Posters must be single-sided and no smaller than an A4 and no bigger than an A2 sheet in size.
Number of Entries: The maximum amount of entries permitted per school is 3 posters per class (whether by competition or random selection, that's up to the school's contact teacher for the competition).
Submissions: Entries can be submitted by post or through our email address.
To submit by post use the following address:
Sport 4 Development Ireland,
C/O Sandyford Community Centre,
Lambscross,
Sandyford,
Dublin 18
To submit by email please use the following email address: admin@sport4development.ie.
Closing Date: Entries must be received at the above address or by email by 12pm Friday 26th February 2016.
Entry Details: All competition entries must include the following information printed clearly on the reverse of each poster:
A: Student's Name          B: Class/Year          C: Age          D: Name of School
School's Details: Entries should be accompanied by contact details for a contact teacher (name, phone number and email address) for correspondence purposes.
Notification: Competition winners will be notified through the school contact teacher within 30 days of the close of the competition by email.
Judging: An independent panel of judges will select the winning entries. The judges' decision is final. No correspondence relating to the competition will be entered into.
Returns: Sport 4 Development Ireland is unable to return any entries to schools.
Publicity: Winners may be asked to take part in competition publicity including being photographed by the media.
Entry to the competition constitutes full and unconditional acceptance of these Rules, Terms & Conditions.
For more information contact us by email at admin@sport4development.ie or visit our Facebook page https://www.facebook.com/Sport4DevelopmentIE/
---
2015 Primary  Schools Art Competition Results
We are delighted to inform you that our inaugural S4D Ireland School Poster Competition 2015 was a great success. We would like to thank all the Teachers and Pupils for the time and effort they put in to produce the posters and most particularly for those they sent in.
We were delighted with the calibre and diversity of entries and the interest from schools, both pupils and teachers, in what was the first poster competition for the IDSDP.
S4D Ireland School Poster Competition 
Results – IDSDP 2015
Sport & Health:
1st Place – St. Raphael's, Ballyfermot – Taylor from 6th Class
2nd Place – Kilternan Church of Ireland – Brooke from 4th Class
3rd Place – St. Raphael's, Ballyfermot – Megan from 6th Class
Sport & Respect:
1st Place – Scoil Chaoimhin Naofa, Hollywood, Co. Wicklow – Amber from 6th Class
2nd Place – Scoil Chaoimhin Naofa, Hollywood, Co. Wicklow – Sean from 6th Class
3rd Place – St. Raphael's, Ballyfermot – Sophie from 3rd Class
Sport & Inclusion:
1st Place – St. Raphael's, Ballyfermot – Blake from 1st Class
2nd Place – St. Raphael's, Ballyfermot – Kimberley from 4th Class
3rd Place – Drumbaragh, Kells, Co. Meath – Leah from 6th Class
Overall Winner:
Scoil Chaoimhin Naofa, Hollywood, Co. Wicklow – Amber from 6th Class