Motorsport Ireland Young Driver of The Year Jake Byrne won first time out in the MI/Sport Ireland Van Diemen FF1600 at Kirkistown in Northern Ireland over the weekend
Jake took the lead early in the race easing his way through the field to take the win and crossing the finish line in an eight seconds ahead of his nearest challenger. Weather conditions where bad in race two and Jake fell to fourth off the line, taking third from fellow Kildare driver James Roe at the hairpin. It was a fantastic days driving from Jake as he had only stepped into the car the previous week.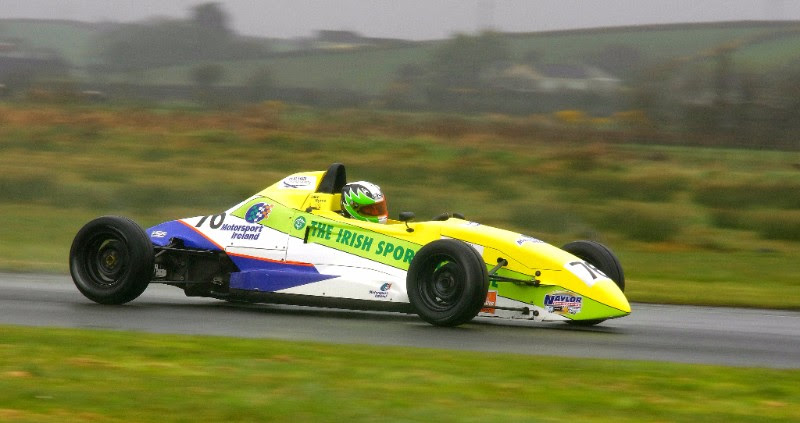 Jake travels to the UK to start his British National Championship assault at Oulton Park in Cheshire on Saturday, before returning to Ireland the following day to attend the "Safer Roads Exhibition" in Punchestown Events Centre as part of his recently announced role as Kildare Road Safety Ambassador.
Jake Byrne, Motorsport Ireland Young Driver of the Year & Kildare Road Safety Ambassador: "I am delighted to start my relationship with the new team with a win. The Van Diemen is a very different car to the Ray chassis I raced before. The team did a great job all weekend- I think we showed what we can do in race one. I am looking forward to next weekend, there is definitely more to come!"
Jake recently teamed up with Kildare Road Safety Authority for 2016 and will be involved in a number of campaigns aimed at improving road safety.
Jake Byrne's next race is at Oulton Park in Cheshire on Saturday April 9th.
Safer Roads Exhibition runs in Punchestown Exhibition Centre on Sunday April 10th
Images from Tom Maxwell
News thanks to Leo Nulty Promotions
Edited by Mark McCluskey