Johannesburg sprinter, Caster Semenya's Olympic rivals are threatened by the potential gold medal winner and are starting to fan the flames of controversy over the South African athlete's gender make-up.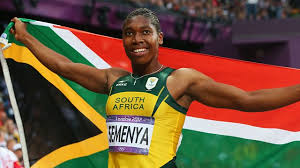 In an interview on BBC Radio yesterday, British Athlete Paula Radcliffe, the current marathon world record-holder, questioned Semenya's expected dominance in the 800 metres at next month's 2016 Rio Games.
Radcliffe said if the expectation was there would be no other result other than a Semenya victory, "Then it's no longer sport and it's no longer an open race. Obviously there is an issue and there is an issue that needs to be understood a lot better.
"What concerns me, we've seen the lengths countries like Russia will go to, to have major success on the world stage and on the Olympic stage," the British runner said.
Following Semenya's victory in 2009 at the IAAF World Championships, she underwent a gender test.
The results were never made public. But in 2010, American 500m record-holder Shannon Rowbury also criticised Semenya, saying that her go-ahead to race at the Olypic games in Rio had challenged and threatened the integrity of women's sports because it meant "intersex" athletes competing against genetic women.
Semenya's coach, Jean Verster, spoke to the Saturday Star yesterday saying' "We aren't interested in what other people have to say. Caster has been cleared to run and that's all that matters," said Verster.
"People always look for some sort of sensation, because they are probably not so much on the radar as they used to be. They are trying to boost their own names and blow their own horns.
"She (Semenya) worked very hard for two years to get where she is today. Extremely hard. So much so that she breaks down sometimes from the gruelling training she is put through. It took her three days to recover from her last race. She was really tired."
Mentally, Semenya is also in a good frame of mind, said Verster.
"She's in a good place. She's happy, and confident," he said.
"At the moment we are in a phase where the training is a little lighter. Caster has worked so hard this year and last year to try to get rid of all her injuries. It's been a long and hard journey with many sacrifices for her."
Verster added that just like every other athlete competing at the Rio Games Caster, too, would be aiming for gold.
"We don't want to get ahead of ourselves. Caster first has to get through the first round, then make the semi-finals, and if she's in the final than we definitely will be aiming for gold.
"Anything can happen. She wants to try and win a medal, as do many athletes, and she's hopeful and confident she will give her best shot and hopefully it will come through."
The Department of Sport and Recreation has also given its full backing to Semenya. Esethu Hasane, spokesman for the department, said: "We are not really concerned with these kinds of comments made by individual athletes. They are bringing up something in the past that has been dealt with already.
"Caster has been given the go-ahead to run and there's nothing really else to say. We continue to support her and she has our full backing going into the Rio Games."
Original Story Credit ; sameer.naik@inl.co.za / Saturday Star
Edited & Published 26/7/16 by Mark McCluskey
For more check out the video of Semenya's Story on the Link below;
Kuchu Times – "Too Fast to Be a Woman The Story of Caster Semenya"