Gianni Infantino, who is Swiss, is one of five presidential candidates seeking votes from FIFA's 209 member associations.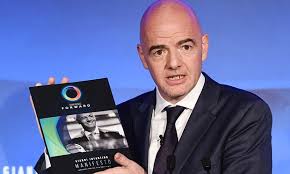 In an attempt to entice federations, Infantino is also offering them a greater share of FIFA's wealth, saying a "proper risk analysis must be conducted" into whether the governing body requires cash reserves as high as US$1.5 billion.
Each of FIFA's members will be offered US$5 million to invest in development projects and running costs — a huge increase on the US$2.05 million per federation 2011-2014 — and another US$1 million, if required, for travel, which would be attractive to small nations in remote regions.
Additionally, each of the six confederations will be handed US$40 million to invest in development projects and their regional offshoots in Asia, Africa, the Caribbean and Central America can request another US$4 million to organize youth tournaments.The amounts are all within a four-year cycle.
"If the target of 50% of distribution of FIFA's income is reached, these amounts will further increase significantly," Infantino said.
Infantino entered the race only after Platini, his boss at UEFA, was initially suspended by FIFA in October before being handed an eight-year ban last month.