Eddie Izzard stopped by Grassroot Soccer earlier today.
Eddie is attempting to complete 27 marathons in 27 days in South Africa. The comedian and actor has so far completed four marathons in four days. Over the next 27 days Eddie will aim to run over 700 miles in temperatures of up to 30°C.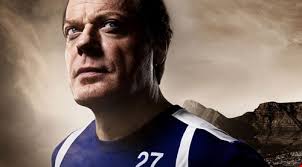 The route Izzard is taking will trace Mandela's life story. The journey includes the school and university attended by Mandela, and then on to Cape Town and Robben Island – the place where he was imprisoned.
Along the way, Izzard is also visiting communities and organisations that have been helped by the work of Comic Relief. Today Eddie stopped off at Grassroot Soccer Organisation . Grassroot Soccer's work is a refreshing and highly promising effort that can help turn the tide against HIV. Soccer is an integral part of local cultures across Africa. It is something so positive that it brings smiles to children's faces even in the worst of circumstances.
Click For more on Grassroot Soccer
Information on how to donate and get involved in Sport Relief
Published 15/03/16 by Mark McCluskey