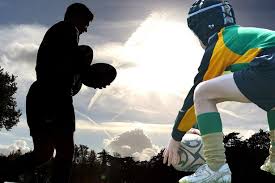 Children in today's society are encouraged to participate in sports programs as they can promote fundamental values such as character building, teamwork, determination and commitment.
But this bias can be troublesome if it prevents us from seeing that problems in youth sports do exist. While we have recently come to realize that some professional athletes have serious problems – drug and alcohol abuse, spousal violence, and acts of aggression, but we have been much slower to recognize the problems that have developed in youth sports.
There are some major problem areas in youth sports that need to be addressed.
As parents we need to be more aware of our behavior on the side lines while watching our kids play sport.
We have all seen instances of emotional abuse that are too common in the world of youth sports: the mortified child whose mother/father is screaming abuse at the referee or the despondent child who is being verbally attacked by his or her parent or coach for some perceived lack of effort or for making a mistake.
As parents we need to remember these are children, not adults. Any abuse you dish out at a child be it on our off the field of play will impact them forever. Value your Childs efforts and focus on the process of learning, not simply the results.
Coaches also need to be accountable, they need to treat the children with respect and encourage them as they learn, teach them it is ok to fail and winning isn't everything.
There is a fantastic article by John O'Sullivan at the changing the game project which is well worth the read
Published 5/9//16 by Mark McCluskey