With the European Athletics Youth Championships starting tomorrow, here are some girls to look out for in Tbilisi.
Sarah Lagger became the youngest ever athlete to break the 6000-point mark for a youth heptathlon with 6014 points last summer and she has since improved her lifetime best to 6066 points at the Austrian Youth Championships.
Lagger cites Jessica Ennis-Hill as her idol but while the Brit excels in the speed and jumping events, the Austrian's throwing events are her bankers. The 16-year-old has gone out to PBs of 14.62m and 48.58m with the junior shot put and javelin respectively this year.
Alina Shukh produced a fantastic display across seven events at the Ukrainian Championships a fortnight ago to claim the senior title aged 17. Making her debut in a senior heptathlon, Shukh cleared 1.92m in the high jump and went out to 51.52m with the senior javelin to bring her total up to 6099 points.
Moldova might not be particularly renowned for their sporting prowess but they have a bonafide gold medal prospect in Tbilisi in Alexandra Emelianov, who won the world youth title in Cali last summer and the European Youth Olympic Festival in the very stadium which will play host to the championships.
Emelianov leads the European youth rankings by a clear margin with a lifetime best of 55.69m. Throwing is very much in Alexandra's genes; her father is still an active shot putter and has qualified for his fourth Moldovan Olympic team aged 39.
Slovenia has an emerging talent in Nika Glojnaric who was born four years after the crowning moment of Bukovec's career. The 15-year-old leads the world youth rankings with 13.25 by just 0.01 ahead of Sweden's Amanda Hansson, meaning we could see an exciting head-to-head for the title in Tbilisi.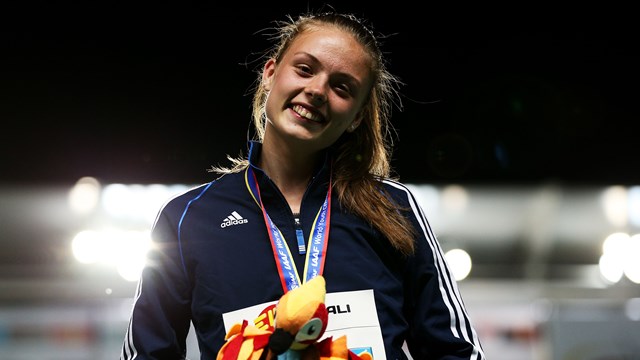 Bacau-born Georgiana-Iuliana Anitei is ranked a clear second with 13.38m and is firmly tipped to extend Romania's fine horizontal jumps tradition in Tbilisi. The 17-year-old had a stellar season at the major championships last year, winning the world youth title in Cali and the European Youth Olympic
Edited and Published 13/07/16 by Sport4Development Ireland Media Team