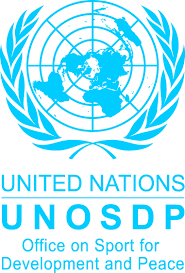 United Nations Office on Sport for Development & Peace
The United Nations Office on Sport for Development and Peace (UNOSDP) was introduced by Kofi Annan in 2001. Its mandate is to coordinate the efforts undertaken by the United Nations in promoting sport in a systematic and coherent way as a means to contribute to the achievement of development and peace.
From UNODSP;
Sport has historically played an important role in all societies, be it in the form of competitive sport, physical activity or play. But one may wonder: what does sport have to do with the United Nations? In fact, sport presents a natural partnership for the United Nations (UN) system: sport and play are human rights that must be respected and enforced worldwide; sport has been increasingly recognized and used as a low-cost and high-impact tool in humanitarian, development and peace-building efforts, not only by the UN system but also by non-governmental organizations (NGOs), governments, development agencies, sports federations, armed forces and the media. Sport can no longer be considered a luxury within any society but is rather an important investment in the present and future, particularly in developing countries.